About tiny houses
*** Important information regarding the new WA State Building Code***
The new code effective date is March 15, 2024.
The State Building Code Council voted on September 15, 2023 to delay the effective date of the 2021 Washington State codes. The previous effective date was October 29, 2023 and July 1, 2023 respectively.


Updates:
09/26/2023 - Recent 2021 Code Cycle Adoption Delay - All Codes
05/30/2023 - 2021 Code Cycle Adoption Delay - All Codes
05/09/2023 - 2021 WSEC Code Cycle
Original:
02/28/2023 - 2021 Code Cycle Adoption by the FAS Program - All manufacturers of modular buildings, commercial coaches, and temporary worker housing - please read this document.

A tiny house is a dwelling that may be built on wheels and is no larger than 400 square feet, including a kitchen, bathroom, and sleeping/living area, and must be built to the Washington State Building Code. The approval process for a tiny house depends on where it's built.
Notice to customers…
If you are considering purchasing, or building, a new Tiny House - please make sure you check with the building department where you wish to build, or place the house to see what is required for their permit. If you are buying an already completed, or used, tiny house – you will need to contact the local building department to see if they will permit/accept your building for use in their area.

If the new Tiny House is being built in a factory, or somewhere else - and then moved to where you will use it, an L&I insignia is required.

We only put our insignia on Tiny Houses that are built to plans approved​ by L&I, and inspected by our program during the construction process. ​(Insignia example​​​​​​​)
On this page, you can determine whether you need approval of construction plans and inspections from L&I or the local building department where the house is being built.
If you're building a tiny house somewhere other than where it will be occupied and used, then see the Building a Tiny House tab.
Next, see the building a tiny house tab.
Building a tiny house
L&I is the building department for the construction of tiny houses that are built at offsite locations, such as a factory or even a back yard. L&I reviews plans and inspections for tiny houses built offsite from where they will be placed.
Note: The design of your tiny house must also meet local building department criteria. Contact your local building department for their requirements and permit information.
To get a tiny house approved:
First, Download and review the tiny house information packet. It includes the standards to which you need to design, plan, and build your tiny house.
Next, fill out these applications:
Tiny House Plan Approval & Insignia Request form (F623-039-000): This is your basic application and gets the insignia for the L&I inspector to place on your tiny house. The insignia is also important when talking with your local building department when you place the residence.

Notification to Local Enforcement Agency (F623-013-000): This is included with a copy of your plan that is sent to the local building department upon L&I approval.
Finally, email FAS1@lni.wa.gov for electronic submittal and payment instructions.
We review plans on a first come, first served basis. Normally it will be several weeks before we can start the actual review. We will notify you if we need more information or when your plans are approved.
Next, see the do the work tab.
Do the work
Once plans for your tiny house are approved, you can start work.
Some important notes about licensing requirements:
When you build a tiny house there are several registration, and licensing issues you need to be aware of and consider.
You may need to be a registered general contractor depending where you are going to work on a tiny house, and what duties you are performing. Contact L&I's contractors program to find out the requirements for your situation.
All plumbing must be installed by a Washington state licensed residential or commercial plumber.
All electrical work must be performed by a Washington State licensed electrical contractor and licensed electricians. You will need to get an L&I electrical permit to connect your house to power.
There are exceptions for homeowners doing electrical and plumbing work on their own house. Please contact L&I's plumbing program and electrical program to determine the licensing requirements for your situation.
Note: Local building permits will be required for everything from the tiny houses foundation, installation, and its location on a property. Remember to contact your local building official for more information.
Next, see the get inspected tab.
Get inspected
You will need to have your tiny house inspected several times by L&I as you complete certain stages of construction. You must contact us using either an in-state or out-of-state inspection request form before covering any work on the house. Our inspector will contact you to confirm an appointment.
When you need an inspection depends on when you complete the stages of construction shown on the form. This can include:
Floor.
Plumbing.
Electrical.
Frame.
Mechanical.
Energy Code.
Final.
Be ready for the inspection. If you've requested an inspection and you're not ready, you will still be charged. If the inspector must return to the location, you will be charged additional fees.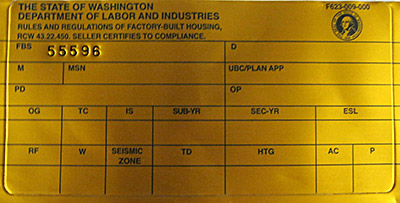 Example of Tiny House/Modular Building insignia.
---