There's no better time to "START" focusing on safety and health in the workplace!
The Department of Labor and Industries (L&I) recognizes businesses that dedicate time and attention to improving their workplace safety culture and reduce hazards, injuries and illnesses.
START, short for Safety Through Achieving Recognition Together, is open to employers with fewer than 250 workers at a specific work site and not more than 500 at all sites in Washington state.
Bellingham's RAM Construction completed its five-year journey in the START program in 2022. Ocean Spray Cranberries, Tidal Vision Products, and Elite Construction & Development began the START certification process.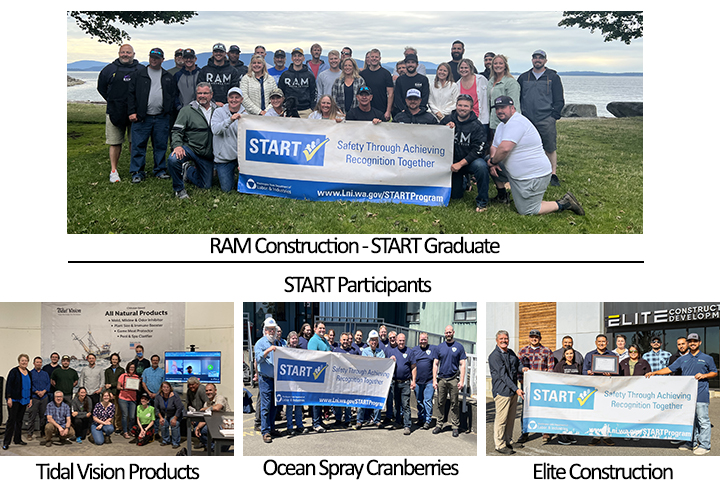 Overview and Benefits
START employers partner with L&I to improve their workplace safety culture and reduce hazards, illnesses and injuries. Here are some benefits of becoming a START participant.
Reduce your worker compensation insurance premiums.
Turnover is costly; increase worker retention.
Reduce the number of missed workdays to keep your operations consistent and cost effective.
Protect your workers from workplace health and safety hazards.
Work with L&I experts to identify and implement safety/health best practices.
Develop a custom injury and illness prevention program.
In cooperation with workers, develop a safer and healthier work environment.
Improve communications throughout all levels of your workplace.
Spread the safety and health message and habits to the surrounding community.
Receive recognition for achieving START status and for maintaining an exemplary injury and illness prevention program.
START Program Fact Sheet (F417-229-000)
Participation
Who can participate?
START is for employers with fewer than 250 workers at a single work site and fewer than 500 at all Washington worksites. Each START certified worksite must be in operation for at least a year and their injury/illness rate must be below the industry average. L&I manages the program.
How do I participate?
Request a free full-service safety, health, and risk management consultations from your local

L&I consultation office. These are provided at no charge to the employer.

Involve employees in the consultation process.
Correct all identified hazards.
Maintain your company's Days Away, Restricted, or Transferred (DART) rate and Total Recordable Case (TRC) rate below your industry's national average.
Agree to notify your local consultation office before changing working conditions or processes that could introduce new hazards.
Small businesses that achieve START status will participate in three certification cycles following initial approval. Certification will be granted upon verification that all START requirements continue to be met.
Graduated & Certified Employers
Current Participants
| Employer | City | Initial Certification |
| --- | --- | --- |
| Ameri-cell (Flax4Life) ​ | Ferndale​ | 2018 |
| Blue Heron Properties | Ferndale​ | 2019 |
| Chemco ​ | Everett​ | 2019 |
| Elite Construction & Development, LLC ​ | Pasco | 2022 |
| Gordon Truck Centers​ (Freightliner) ​ | Mt. Vernon​ | 2021 |
| Intefor (CedarPrime) ​ | Sumas | 2019 |
| Ocean Spray Cranberries Inc. ​ | Aberdeen | 2022 |
| Pape' Material Handling ​ | Yakima​ | 2019 |
| Port of Bellingham (Blaine Marina​) | Blaine | 2020​ |
| Robertson & Olson Construction ​ | Vancouver | 2023 |
| Superfeet​ | Ferndale​ | 2019 |
| Tidal Vision Products Inc​ | Bellingham | 2022 |
Graduates
| Employer | City | Graduation Year |
| --- | --- | --- |
| Papé Machinery, Inc. | Kelso | 2016 |
| Healthy Pet | Ferndale | 2019 |
| Henningsen Cold Storage | Richland | 2018 |
| RAM Construction ​ | Bellingham​ | 2022 |
Contact the START Coordinator