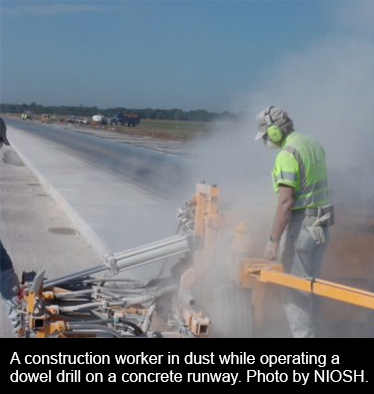 Silica is the most common mineral on earth, so no wonder it is a common hazard at many workplaces. Silica can be found in most types of rock, in concrete and other construction materials, and even in some types of soil. Silica becomes dangerous when it is a dust and is breathed into the lungs.
Sanding, cutting, crushing, or drilling concrete or stone releases silica dust.
Silica dust, specifically crystalline silica, can make you sick. Once you breathe it in, it stays in your lungs and can cause many diseases including lung cancer, chronic obstructive pulmonary disease, kidney disease, and silicosis – a disease that permanently scars the lungs and makes it progressively harder to breathe.
For information on protecting yourself and workers from harmful exposures to silica dust, see the sections below. The Requirements and Policies section has information for employers on how to comply with rules about silica and avoid citations.
Overview
Getting Started
First, identify if you have crystalline silica on your worksite. If you are not sure, look at the safety data sheets, or SDSs, of the products you use.
Once you identify that you have crystalline silica, you must evaluate if dust is generated and if the amount of dust in the air is over regulated limits. L&I's safety and health consultants can help you make this assessment.
If there are workers with exposures to respirable crystalline silica over the regulated limits, you must take measures to protect your workers' health. Respirable dust means the dust particles are small enough to reach the bottom parts of your lungs if you breathe them in.
The topics listed below are measures used to protect workers. These measures must be in place when employees are exposed to silica dust over certain regulated limits.
Written Silica Exposure Control Plan
Creating a silica exposure control plan will help you manage silica dust on your worksite. A written exposure control plan describes tasks at your workplace that involve silica dust, what controls are used to limit that dust, and how the silica is safely cleaned up.
Educate Your Employees on the Danger of Silica Dust
Train employees on silica safety so they know the danger of silica dust and know how to protect themselves from it.
Decrease Silica Dust with Water or Vacuums
Equipment and tools with water delivery systems or attached vacuums are common ways of protecting workers from silica dust. Feasible engineering controls, like tools with vacuum attachments, are required if worker exposures to silica dust are over regulated limits. However, even with these tools, you may still need to require the use of respirators.
Respirators Filter Dust from Entering the Lungs
Workers with exposures to respirable crystalline silica over regulated limits will need to wear respirators. However, respirators are often not used correctly. Respirators require planning and oversight due to how complicated their use is. Be sure to have a full respiratory protection program if you are using respirators.
Medical Surveillance
Some workers may be offered silica medical exams due their exposure to crystalline silica dust. The aim of these exams is to identify and prevent the progression of any silica related diseases. These exams are paid for by employers and can include x-rays, lung function tests, tuberculosis tests, or other tests.
Exposure to respirable crystalline silica places workers at increased risk of developing certain diseases, including converting latent tuberculosis infections to active tuberculosis. For this reason, workers exposed to respirable crystalline silica are tested for tuberculosis.
Requirements & Policies
The Respirable Crystalline Silica standard, WAC 296-840, describes the requirements in place to keep workers safe from silica. This rule applies when an employee exposure to respirable crystalline silica is over the action level. Additional requirements apply when an employee is over the permissible exposure limit.
The action level for this standard is a concentration of airborne respirable crystalline silica of 25 micrograms per cubic meter, calculated as an 8-hour time-weighted average.
The permissible exposure limit for this standard is a concentration of airborne respirable crystalline silica of 50 micrograms per cubic meter, calculated as an 8-hour time weighted average.
L&I's safety and health consultants can help you understand if this rule applies to you and how to implement it.
In general, when workers are exposed to levels of silica at the action level, employers must:
Assess how much silica workers are exposed to,

Or for construction tasks in Table 1 of the standard, employers can choose to follow the controls listed in the table instead of assessing the amount of respirable crystalline silica dust in the air

Train employees on silica safety
Have a written silica exposure control plan
Offer medical surveillance for employees with exposures to silica over the action level 30 or more days a year
At the permissible exposure limit, some additional requirements can include:
Using feasible engineering and work practice controls to reduce worker exposures
Requiring appropriate respirators if engineering controls are not sufficient
Establishing a regulated area
Read the Respirable Crystalline Silica Standard for the specific requirements workplaces need to follow.
Rule
Enforcement Policies
Additional rules that can apply when working with silica include:
Training & Resources
These resources can help explain the hazard of respirable crystalline silica and help you meet the respirable crystalline silica standard.
This etool shows the dust control requirements for certain construction tools and whether a respirator needs to used.
These trainings can be tailored and supplemented with your site specific information.
Use this website to create a written silica exposure control plan tailored to your workplace.
Industry and Task-Specific Resources
These resources help further clarify the hazard of silica.
Construction and Silica
This webpage provides resources directed toward construction work.
General Silica Information
These websites provide additional information about the hazard of silica.
Health Effects of Silica
These resources explain the health effects of silica exposure and the value of medical surveillance (also called medical monitoring).
Stone Countertop Work
---
For topic-specific information, see also:
More help from L&I: