Asbestos
Asbestos has been widely used in many products because of its strength and insulating qualities.
However, asbestos is extremely dangerous to workers handling it and to others nearby when it gets into the air and is breathed in. Asbestos can cause fatal diseases such as:
Lung cancer
Mesothelioma
Asbestosis.
Asbestos has not been banned and can still be found in new products and materials. Even new buildings can contain asbestos.
Overview
Getting Started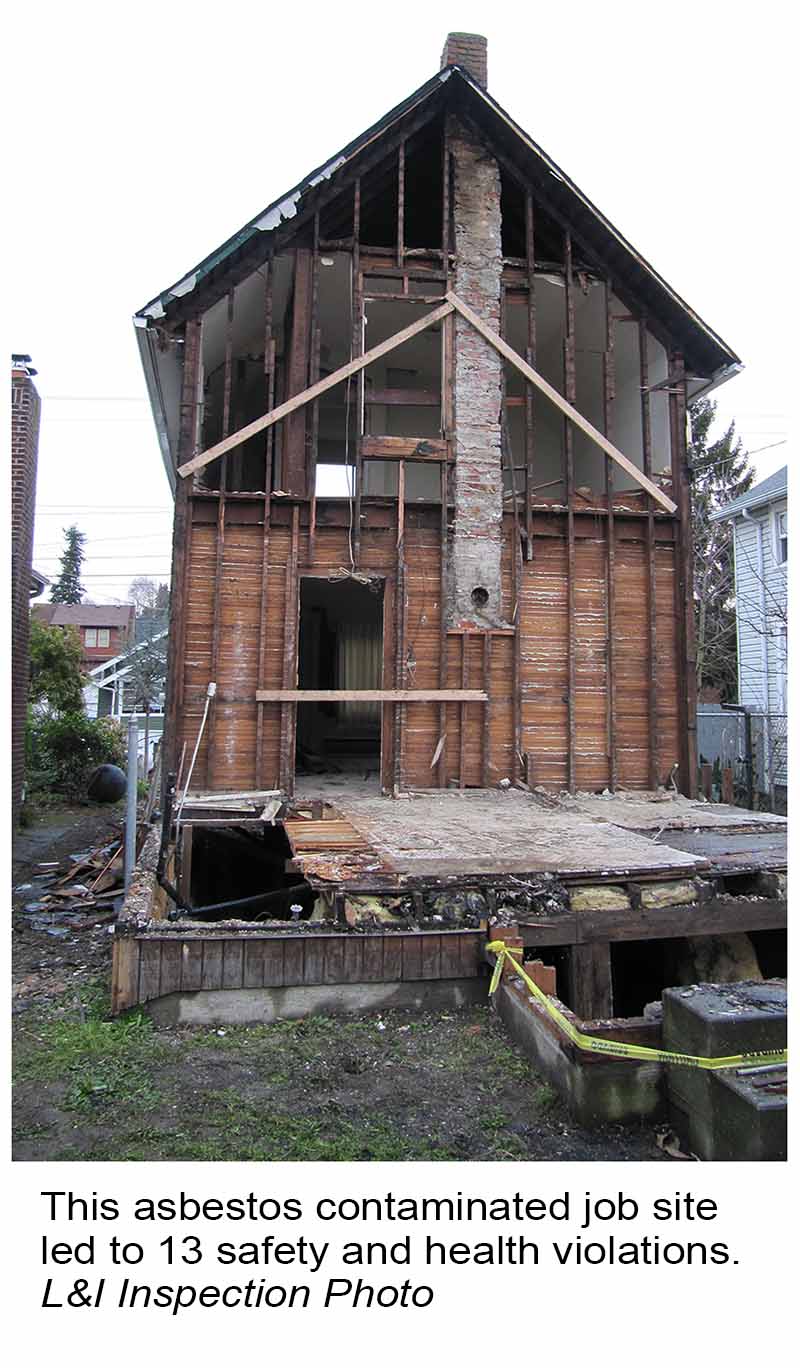 Asbestos can be found in many types of building materials and other products, including:
Pipe insulation
Wall and ceiling texture, including popcorn ceiling
Adhesives, caulking, and joint compound
Vinyl floor tiles, including backing and adhesives
Roofing materials and siding shingles
Walls and floors around stoves and fireplaces.
Since there is still not a complete ban on asbestos containing products, even new building materials can contain asbestos. It is important to identify products and building materials that contain asbestos before doing any work with them that might release asbestos into the air.
Asbestos fibers can be released into the air and contaminate surroundings when doing any type of renovation, remodeling, repair, maintenance, or demolition on asbestos containing material. In addition to creating a health hazard to workers, cleaning up improperly handled asbestos can dramatically increase the cost of a construction project.
Identify asbestos before starting any renovation, remodeling, repair, maintenance, or demolition project, by having an accredited Asbestos Hazard Emergency Response Act (AHERA) Building Inspector perform a good faith inspection. It is impossible to tell if a material contains asbestos without having an AHERA Building Inspector sample the material, and have it tested by an accredited laboratory.
AHERA Building Inspectors are trained to identify suspect asbestos containing materials, and safely take samples that could be disturbed by the project. Most certified asbestos abatement contractors have an AHERA-certified building inspector on staff, and you can also do a web search for an "AHERA certified building inspector" in your area.
Contractors and workers must be trained and certified to work with asbestos. Find certified asbestos abatement contractors, and learn more about asbestos abatement certifications on our asbestos certifications page.
Requirements & Policies
Prior to any construction, renovation, remodeling, maintenance, repair, or demolition project, homeowners, building owners, and contractors must have a good faith inspection for asbestos conducted by an accredited AHERA building inspector on the materials that could be disturbed by the project to determine if they contain asbestos.
The accredited AHERA building inspector conducting a good faith inspection knows how to choose the right materials and locations to sample to make sure they identify any asbestos, and will provide a report identifying any asbestos that was found.
You can be fined $600 a day for work performed without having an AHERA Building Inspector test for asbestos, or for not sharing the results of the inspection with any contractors and workers that could be exposed. This fine can be applied to both contractors and building owners. Fines go up if workers are exposed to airborne asbestos.
For work with asbestos containing materials, you will need to hire a certified asbestos abatement contractor. The asbestos abatement contractor will use some, or all of the following precautions:
Trained and certified workers and supervisors.
Notifying L&I and local clean air agencies of the work to be done.
Creating a regulated area to keep unauthorized people out of the area.
Building a containment, and decontamination area, including a shower.
Testing for asbestos in the air during the work.
Use of wet methods, HEPA filtered vacuums, or other controls to keep asbestos out of the air.
Personal protective equipment including respirators, suits, goggles, and gloves.
Medical surveillance of asbestos workers to ensure they are being kept safe.
Testing the air after the work is done to make sure the area is safe to re-enter.
Failure to follow all asbestos regulations can pose a serious health threat to the workers, people in the building, or the public, and lead to financial penalties or even decertification. Read the asbestos regulations through the links below.
L&I's safety and health consultants can help you understand how the asbestos rules apply to you and how to implement them. Information about filing a safety and health complaint is located on L&I's Report a Safety Hazard web page.
Rules
DOSH Directives (DD)
These policies provide guidelines for the Division of Occupational Safety and Health (DOSH) compliance and consultation staff when assessing occupational hazards related to asbestos.
Training & Resources
Asbestos Awareness
Asbestos can be found in many materials and these resources can help you identify suspect asbestos containing materials before doing work that could accidentally disturb it. Anyone who works in or around structures that could contain asbestos will need asbestos awareness training.
Employee Training
Read more about how to become a Certified Asbestos Worker, Certified Asbestos Supervisor, and a Certified Asbestos Contractor on the Asbestos Certification page.
Industry-Specific Asbestos Hazard Information
Other Agencies Regulating Asbestos
Environmental Protection Agency (EPA) Asbestos website
Related Safety Topics
More help from L&I: